Maybe the perfect wedding photographer for you!
or:
I am not for everyone
OK, let's be honest. There are as many different approaches to wedding photography as there are wedding photographers. And you should find the one that fits you best. The perfect wedding photographer for YOU! And maybe that is not me, but that's OK. I think that wedding photographers have a certain responsibility towards their clients. Because we take those pictures that will be cherished for a lifetime.
I will tell you what my perfect clients are and what I will do and won't do for them.
What I won't do
I won't tell your guests to smile into my camera. I won't pose you awkwardly. I won't flash in your face if it is not necessary (and sometimes it is 😉 ) I won't work from a shotlist or a Pinterest-board. I won't photoshop the Bride into the Grooms Hand or stuff like that. I won't fumble around with your accessories in the next room while your parents are crying for joy because they see you the first time on your wedding day.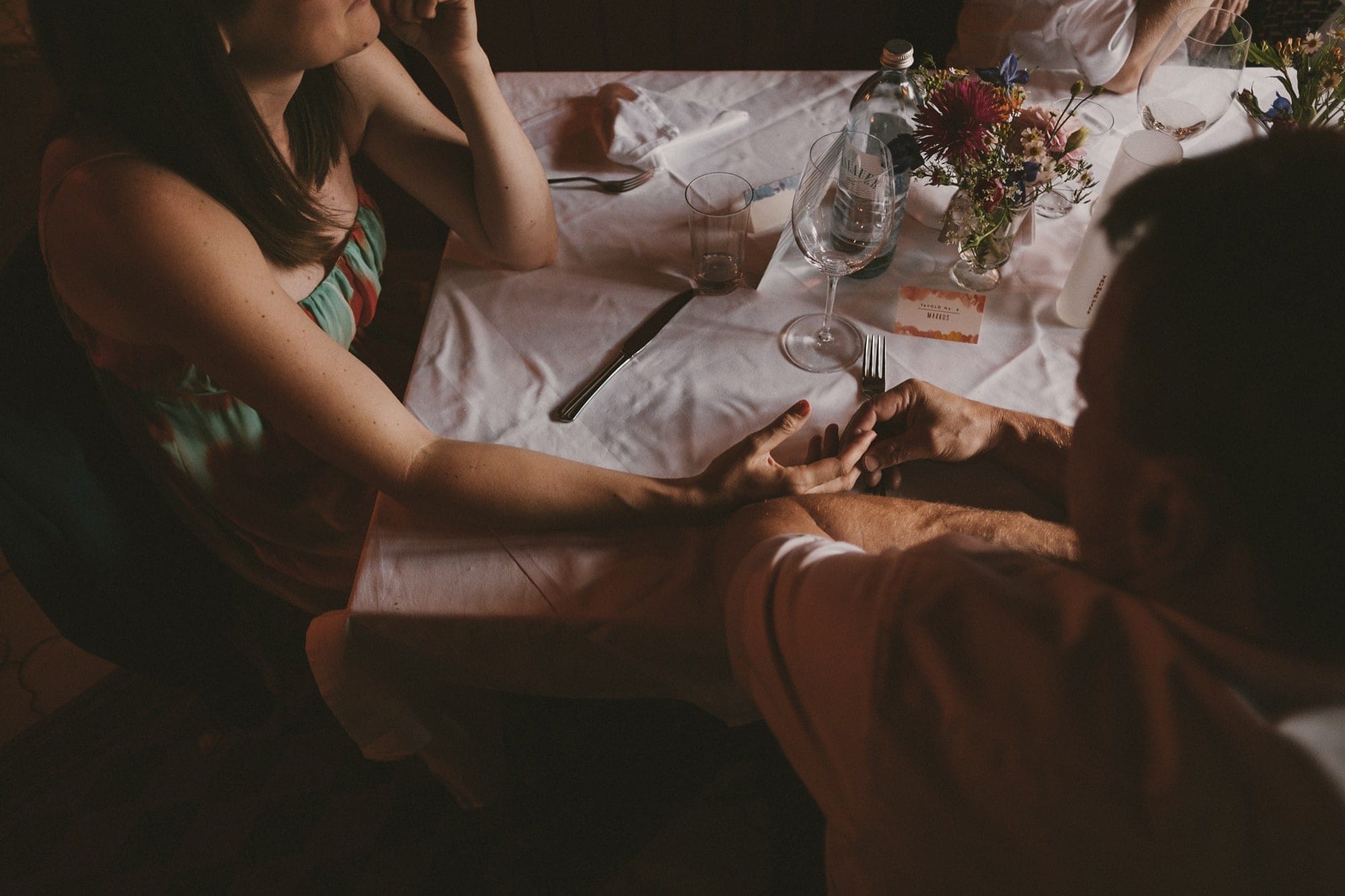 What I will do
I will document your wedding day in an unobtrusive way. I will look for the small gestures as well as for the epic shots – there is so much worth remembering on a wedding day. My goal is to make pictures that capture the feelings of the moment and help you come back to that awesome day in many, many years from now.
"Don't shoot what it looks like, shoot what it feels like" – David Alan Harvey
So: Who are my perfect clients?
I like to work with couples who are madly in love with each other.
You are free minded, a little adventurous and like to see the world. You read books and love good Movies and Music. You dance in the rain, hug and kiss a lot because you want to and are nice to other peoples and animals. For you a good conversation with an old friend or a smile from your mother is more important than "things".
Your wedding will be awesome and you can't wait to share that day with all your best friends and family. You want a photographer that is less another vendor and more like a friend who hangs at your wedding and makes awesome pictures. You need a personal photographer.
If that sounds like you than get in touch and tell me a little 'bout you!
"Thanks Konstantin for the gallery! We love the pictures! You documented so many moments we didn't even realize were happening. You are like a wedding-ninja!" – Holger